Tis the season… The cold weather has finally arrived, at least up here in the North Country, and each week brings new seasonal beer releases. It's the season for Christmas beers and winter warmers.
What exactly is it that makes a beer a Christmas beer? To generalize, holiday ales tend to have higher alcohol content, in the 6%+ range. They tend to be malt balanced, meaning sweeter with caramel, toast, roast, and dark fruit flavors. They may contain spices, spruce, or some other special holiday-suggestive ingredient. But none of these characteristics hold true across the board. In my own view a beer is a holiday beer because the brewer says it is. A perfect example of this is Sierra Nevada Celebration Ale. One of the oldest "holiday" beers in the US, it is really just a very good IPA that emphasizes the pine/resin flavors of American hops and has a beefier malt backbone. It would be just as appropriate at any other time of year. Another is Nöel from Italian brewer Birreria Baladin, a decent Belgian strong dark ale with nothing specifically "holiday" about it. All the same I love holiday beers, spiced, spruced, fruited, or otherwise.
This week and next I will do a roundup of some of the holiday ales that I have been sampling. These are not arranged in any ranked order.
American Holiday Beers
Anchor Christmas Ale 2009
Anchor Brewing Company, San Francisco, California
Style: Holiday Specialty Ale, 5.5% ABV
Every year since 1975 the brewers at Anchor have created a distinctive and unique Christmas Ale. The Ale's recipe is different every year—as is the tree on the label. This year's iteration is a jewel-like ruby ale with delicate, toasted bread crust malt and hints of chocolate and roast. Plum, nutmeg, and allspice carry the beer through to a dry finish that lingers on chocolate and spice. This is what I had with my turkey on Thanksgiving. It was a great match.
Celebration Ale
Sierra Nevada Brewing Company, Chico, California


Style: American IPA, 6.8% ABV
Who says winter warmers have to be all about malt and spice? Celebration Ale is exactly what you would expect from the pioneers of hoppy American Pale Ales. High levels of bitterness and pronounced pine, mint, and herbal hop flavors are the stars of this relatively high alcohol IPA. Those hops are balanced by beefed-up, bready/toasty, supporting malt and a bit of alcohol warming. A Christmas beer for the hop heads.
Winter Ale
Alaskan Brewing Co., Juneau, Alaska
Style: Old Ale with spruce, 6.4% ABV
This reminded me of the Brach's Caramel Chew candy that I used to eat at my grandparents' house. Big, rich, caramel malt is balanced by moderate bitterness and spicy hop flavors. The standout here is the cool and spicy spruce that makes this beer taste like a blizzard in your mouth. It's all complemented by subtle, yeast-derived fruit notes.
English Holiday Beers
Winter Welcome
Samuel Smith's Old Brewery, Tadcaster, England
Style: Old Ale, 6% ABV
The Old Brewery at Tadcaster was founded in 1758 and is Yorkshire's oldest brewery. Samuel Smith is one of the few remaining independent breweries in England, and further is the last to utilize the classic Yorkshire Square system of fermentation, the practice of fermenting in shallow, open, square-shaped, stone vessels. Winter Welcome is a traditional English winter warmer with deep copper color and a persistent white head. English biscuit and caramel malt flavors dominates with just enough floral hop bitterness to balance. Light alcohol warming, subtle fruit, and the characteristic Samuel Smith mineral flavors round this one out.
Winter Ale
St Peter's Brewery, Bungay, Suffolk, England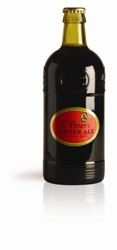 Style: Old Ale, 6.5% ABV
A darker and more assertively roasty version of the classic English old ale. Like a strong ESB or a fruity brown ale. Caramel and molasses are the dominant flavors at first, with nice background roasted malt bitterness and oat-like breadiness. Chocolate and plum flavors with characteristic English yeast fruitiness come in as the beer warms. Bitterness is moderately high with an assertive bite at the onset like a good bitter. Floral hop flavors with hints of mint and anise. Beautifully balanced and drinkable. They call it a "classic winter ale", but this beer would work well any time of year.
Belgian Style Holiday Beers
I say "Belgian Style" here because so many of the holiday offerings from brewers all over the world are based on Belgian styles.
Noel de Calabaza Batch #333/334
Jolly Pumpkin Artisan Ales, Dexter, Michigan
Style: Barrel Aged Belgian Strong Dark, 9% ABV
This beer is like a rum-soaked, plumy bread pudding. Bread crust and toast with a touch of chocolate forms a platform on which an awesome fruit character rests. Brown sugar and rum-soaked raisins and plums. Touches of vanilla, oak, light sourness, and leathery funk. The finish is very dry, but the rum and fruit flavors linger on and on. An endlessly complex beer. Serve this with roast poultry or wild game especially with some kind of fruit sauce preparation. It would also do well with spice cake for desert.
Tsjeeses
De Struise Brouwers, De Panne, Belgium


Style: Christmas Belgian Tripel, 10% ABV
This is a rare and great beer from the fellows at De Struise. Complex layers of fruit, spice, alcohol, and malt character. It reminds me of biscuits with spiced peach jam and butter or maybe spiced peaches in fortified wine syrup. Fresh bread malt lingers into the finish. A dance of cinnamon, nutmeg, ginger, stone fruits, peach and apricot, and orange citrus. The thick full body reinforces all the complex flavors. There is an assertive alcohol, but sweet, not hot.
Van Twee
DeProef Brouwerij, Lochristi-Hijfte, Belgium with Bell's Brewing, Kalamazoo, Michigan
Style: Dubel/Porter mashup with brettanomyces and cherry juice, 7.5% ABV
While not intended as a holiday beer, it certainly could qualify as one. The malt character is like malted milk balls. Lovely dark chocolate with some caramel. Dark caramel malts also add a huge dose of plum dark fruitiness. This plays well with the cherry that is the second most pronounced flavor. The brettanomyces funkiness is noticeable, but not overwhelming. A nice background barnyard that supports the cherry. Medium-low bitterness and some nice clove spice notes and hints of the Belgian cotton candy character round this one out.
St. Bernardus Christmas Ale
Brouwereij St. Bernardus, Watou, Belgium


Style: Spiced Belgian Strong Dark, 10% ABV
A spiced version of St. Bernardus Abt 12, this beer starts as one of the world's best. It is certainly one of my holiday favorites. It pours dark amber with ruby highlights, sporting a full persistent head with lots of Belgian lace. Its loads of candied fruit flavors and cinnamon/clove spiciness rest on a base of rich, bready and toasty malt with characteristic Belgian yeast character. This beer is like liquid fruitcake. It is medium bodied and easy drinking for a beer of this strength.
German Holiday Beers
Samichlaus
Brauerei Schloss Eggenberg, Vorchdorf, Austria


Style: Doppelbock, 14% ABV
The quintessential European Christmas beer, Samichlaus is brewed only once a year on December 6th, St. Nicholas day. The name means Santa Claus in Swiss German. Samichlaus is aged for 11 months before bottling. Rich, warming, and malty, the flavor is dominated by bread and dark fruits like plum and raisin. The sweetness of the malt is cut by moderate hop bitterness and light alcohol flavors. A complex sipper.
There are ten to get you started. More to come next week.