So where did all of this holiday beer brewery start anyway? Is it some invention of the innovation crazed American craft beer movement? Or did it start with the Brits, perhaps sometime in the nineteenth century? Or maybe the druids? To get the answer to this question I suspect you have to go waaaayyy back, probably as far back as the very invention/discovery of beer and brewing.
Whether or not you believe that beer was the first fermented beverage, and there is some dispute on this matter, we can all agree that beer has been around for a very long time. And a very long time ago many societies worshiped the sun. There is ample evidence in the ruins of ancient civilizations from Persia to Britain of the importance of the winter solstice. Seeing the sun begin to linger longer in the sky after the darkening of winter must have been a cause for celebration. Can there be any doubt that these ancient beer brewing cultures would have imbibed some strong ale to solemnize the event?
The Romans celebrated the Saturnalia, a drunken festival commemorating the god of the harvest, on December 17 – 25. Certainly beer was part of this revelry. When the third-century emperor Aurelian established a religion around the single deity Sol – the sun god, he established his feast day (an opportunity to drink beer) on December 25th. A century later Pope Julius chose December 25th as the official date of the birth of Christ, carrying over many of the pagan traditions into the Christian celebration. One of those traditions was beer.
Beer has remained a part of the holidays ever since. Early monks brewed strong ale to celebrate the season. By 800 AD Norwegian farmers were required by law to brew a holiday juleøl under penalty of forfeiture of land and expulsion from the country. The wassail tradition of singing holiday songs in exchange for strong, spiced ale, like a Christmas version of trick-or-treat, took hold in Britain. It was common in the American Colonies too, until the governors of Massachusetts Bay Colony banned the practice in 1659, lest their pious parishioners debauch themselves. But by the time of the American Revolution it was once again customary to brew "a right strong Christmas beer" to enhance the holiday cheer. In the United States, Europe, and other places around the world, the tradition of brewing special beers to be consumed at the peak of winter darkness has never ceased.
So here's to continuing a tradition that may be as old as beer itself.
American Holiday Beers
2009 Christmas Ale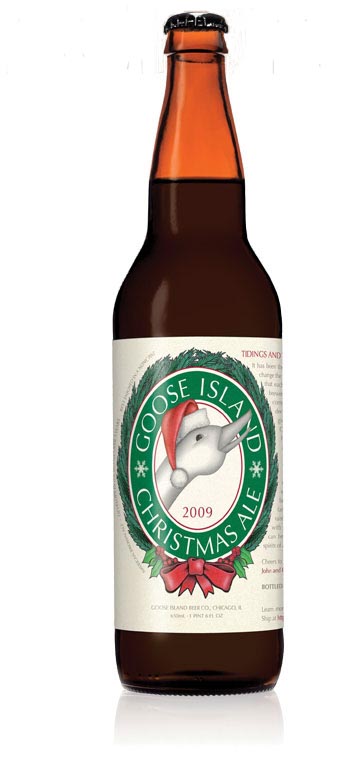 Goose Island Brewing Co, Chicago, IL
Style: American Brown Ale, 5.7% ABV,
Wow! I really like this beer. Caramel, toffee, and brown sugar lead off, with toasted bread, nuts, and hints of chocolate rounding out the malt. The bitterness is moderately high, but balanced. Minty/herbal hops flavors. Nice tangerine citrus fruit. Whiffs of ginger spice and cinnamon. The long finish lingers on bread and fruit. Light and tasty, yet warming on a cold and snowy winter's evening. Balanced. My burps tasted of tangerine. Nice.
Shiner Holiday Cheer
Spoetzl Brewery, Shiner, Texas
Style: Dunkelweizen with Peaches and Roasted Pecans, ABV: 5.4%
If you like peach cobbler this is the beer for you. The aroma is peaches, peaches and more peaches. The peach flavor shines but blends well with caramel/brown sugar malt and background notes of cinnamon, clove, and toast. Light body and low alcohol make it an incredibly drinkable holiday brew. I could down a few of these.
Hebrew Jewbelation 13

Shmaltz Brewing Company, San Francisco, California
Style: Specialty Ale, 13% ABV
The holidays aren't just about Christmas. Hanukah falls at this time of year as well. While not officially a Hanukah brew, Hebrew's annual anniversary ale comes out during this season so we'll call it one. This year's "Bar Mitzvah" edition is a monster. Made with 13 malts, 13 hops, and 13% ABV, this is a hit-you-over-the-head-with-flavor kind of beer. Sweet, rich, and malty, It changes as you drink it, starting on blackstrap molasses and finishing on chocolate, with anise, prunes, and figs coming in the middle. Minty/herbal hop flavors and relatively high bitterness cut the malt and keep it from becoming overbearing. Given the high alcohol, thick mouthfeel, and sheer intensity of flavor, it is definitely a one-glass beer for me. But not a bad glass to have.
Bell's Christmas Ale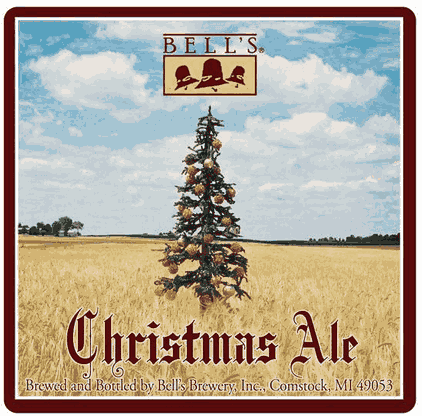 Bell's Brewery, Comstock, MI
Style: Scotch Ale, 5.4% ABV
This beer grew on me as I drank it. Nutty caramel malt dominates with a good deal of fruitiness; cherry and raisin. Although malt forward, the level of bitterness is higher than expected and there is a good deal of earthy/spicy hop flavor. The initial carbonation was too high, which detracted from the flavors. It gets better as the carbonation settles and the malt is allowed to come through more fully, revealing nice herbal and vanilla notes.
Warm Welcome Nut Browned Ale

Ridgeway Brewing Co, South Stokes, England
Style: Brown Ale, 6% ABV
Fruity English yeast character blends with sweet toffee malt and a light, earthy, herbal hop to create an inviting aroma in this "brown ale with real attitude." The toffee carries over into the flavor providing a base for delicious hazelnut notes and a finish the carries just a suggestion of roasted barley. The sweet malt is balanced by a relatively high level of bitterness and carbonation, while light cherry and fig fruitiness weaves in between. The whole thing is under-set by a mellow mushroom/musty earthiness.
Belgian Style Holiday Beers
It is amazing how many breweries release Belgian-inspired ales at the holidays.
Fantôme de Noël

Brasserie Fantôme, Soy, Belgium
Style: Belgian Farmhouse Christmas Ale, 10% ABV
A tasty, fruity, toasty, sour beer similar to a Flanders Red or brown. Red wine-like tart cherry and melon balance a pronounced barnyard funk. Toasted malt with some caramel comes out in the middle and lingers into the finish. Faint notes of tobacco, green onion, black pepper, and herbs come in as it warms. This beer carries the high alcohol content well. Refreshingly tart and very complex. It would go well with poultry and pork dishes, particularly with fruit sauces or stuffing. It could also complement a spiced cake. Beers like this one are the reason I love beer so much.
Nöel du Baladin
Birreria Baladin, Piozzo, Italy
Style: Belgian Strong Dark, 9% ABV
Italy is not necessarily known for beer (although they have produced some great ones). It is currently experiencing a craft beer revolution similar to the one in the US. Leading the way is Le Baladin. Nöel is a pretty straightforward example of the Belgian Strong Dark style. It features rich bready malt with hints of caramel and loads of dried dark fruit flavors; plum, cherry, and fig. Faint cocoa and anise/pepper spice along with the characteristic Belgian cotton candy flavors round this one out. While it is a good example of the style, I wouldn't choose it over some of the better Belgian versions.
Kloster Jul

Ølfabrikken, Roskilde, Denmark
Style: Belgian Strong Ale with Cherries & Star Anise, 9% ABV
Another country experiencing a boom in small breweries is Denmark. I don't have recent figures, but as of a couple years ago Denmark had the largest number of breweries per capita in the world. Founded in 2004, Ølfabrikken (translated "beer factory") has produced a huge variety of brews, averaging three new beers per month. One of many seasonal Christmas beers, Klosterjul is a strong Belgian-inspired beer. Belgian yeast character is apparent, leaving touches of spice and pronounced green banana. The cherries used in brewing are subtle, but the star anise is not. Licorice and cinnamon spice take center stage in this beer with a deep bready malt character supporting.
Seriously Bad Elf
Ridgeway Brewing Co, South Stokes, England
Style: Belgian Tripel, 9% ABV
One more example of a Christmas beer that is such by virtue of the brewery releasing it as such. This is a pretty straightforward Belgian Tripel. Golden colored with a creamy, white head. The flavors are of sweet pilsner malt and sugar with a good deal of light stone fruit ester character. The one problem that I found with this beer is the intense banana ester in both the aroma and the flavor. This particular note overshadowed pretty much everything else. A decent, but not great Tripel.
Scaldis Noël

Brasserie Dubuisson, Pipaix, Belgium
Style: Belgian Strong Ale, 12% ABV
What fruit flavors are not in this beer? That may be an easier question to answer than identifying all of them that are present. This big Belgian holiday beer is an explosion of fruity esters; apricot, cherry, orange rind, berry, banana, all working together in a harmonious mélange. All that fruit is complemented by peppery hop and yeast notes that pop out especially in the dry finish. Big, but easy to drink. A luxuriously complex Christmas candy of a beer.
German Holiday Beers
Ayinger Weizenbock

Privatbrauerei Franz Inselkammer, Aying, Germany
Style: Weizenbock, 7% ABV
Bock beers are common holiday releases for breweries in Germany. Full bodied, malty, and strong, they are perfect for the season. Less often seen, however, is weizenbock. Weizenbock is basically a German wheat beer brewed to bock strength, with correspondingly fuller body and intensified flavors. The Ayinger version pours a cloudy light orange with an enormous fluffy white head. The intense clove, banana, and citrus aroma hits you before you can even get the beer poured. Your palate is greeted with a wave of spicy clove and lemon overlaying a rich, bready, wheat malt base. I had this with a spicy middle-eastern split pea soup. Fantastic. If hefeweizen is the essential beer of summer, weizenbock should be essential for winter.
Canadian Holiday Beers
Solstice d'hiver (Winter Solstice)

Brasserie Dieu du Ciel!,  St-Jérôme, Quebec, Canada
Style: Barleywine, 9.8% ABV
So we don't forget where all this Christmas business originated, Dieu du Ciel brings us a delicious and highly fruity barleywine to celebrate the winter solstice. Burnt sugar and bittersweet chocolate dominate the malt. I like the bittersweet chocolate notes. Not something one finds in barleywines all that often. The high level of bitterness I think puts it firmly in the American style, but it is balancing without going over the top. This beer displays loads of fresh dark fruits, dark cherries and plum, wet raisins, with some orange citrus on the tip of the tongue. I wish there had been more to the aroma. It is a nice beer for sipping on a cold winter's evening.
There are twelve more holiday beers for you to try, one for each of the twelve days of Christmas (if that's the way your seasonal celebration swings). There are many more out there besides these. Pick some up and give them a try.
If you are looking for a quick and interesting read with many more great holiday beer suggestions, check out Don Russell's book Christmas Beer.