In a recent post fellow Hoppress writer Mario Rubio noted that "collaboration is the new barrel-aging." Indeed, collaborative brewing seems to be the next big thing in the craft beer industry. Breweries large and small, foreign and domestic, are combining their collective know-how to create brews ranging in style from barleywines to Belgians to browns, with an assortment of sours tossed on like salad dressing. Everyone is doing it. Dogfish Head has teamed with Sierra Nevada. Brooklyn brewed with Schneider & Sohn. Sam Adams recently announced that they will work with Weihenstephaner. Stone, De Proef, Bells, Nøgne Ø, Allagash, Urthel, it's almost easier these days to name breweries that have paired with others than it is to find those that haven't.
So far as I can determine the collaborative craze began in 2006 when Avery and Russian River created Collaboration Not Litigation. You can read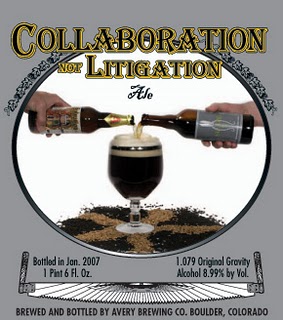 the whole story here, but basically the origin of this beer went something like this. Two Brewers. Two Friends. Two beers. Same name. Same markets. Litigate? Hell no! Blend! The impetus for the collaboration was clear. For these two brewer friends it was better to work together than battle it out in the courts. The blended result is a beer that's quite possibly greater than the sum of its parts.
And it didn't end there. This initial collaboration led to others. Close friendship and a communal beer tour of Belgium (during which I'm told "a ton of sour beer was consumed") led Avery and Cilurzo to team with Rob Tod from Allagash, Tomme Arthur of Lost Abbey, and Dogfish Head's Sam Calagione to create Isabelle Proximus. For this conjointly created lambic style beer, a simple base was aged in barrels from each brewery's barrel-aging program with their distinctive wild yeast and bacteria cultures. The beers from each barrel were blended by the brewers to achieve the final product. Via the barrels and the bacteria, a bit of character from each brewery made its way into the final beer. In both of these cases the end product literally could not have been made without the collective process.
But there are beers in which the reasons for and results of the collaboration are not so clear. My example case here is Special Holiday Ale from Stone, Nønge Ø, and Jolly Pumpkin. While this was a beautiful beer, after finishing the bottle I found myself wondering exactly why it had necessitated collaboration. What had collaboration had brought? From whence had it sprung? While it was certainly possible that there were relationships to which I wasn't privy (how dare they keep me out of the loop), I knew of no previous connection between the breweries. And the beer itself showed none of the character that I associate with the products of those breweries on their own. There was no "little bit of each brewery" kind of thing happening. So why the collaboration? It was only with a bit of digging that I was able to uncover the story of chance meetings at a Tokyo bar, extended email exchanges about recipe formulation, and ingredients indigenous to each brewer's home region.
But the Special Holiday Ale got me thinking. Actually it was that beer along with the sheer number of other collaborative brews appearing on store shelves that did it. Why this sudden interest in collaboration? Is it a gimmick to boost sales? Store owners tell me that these beers are great for getting people in the door and they are often quite a bit more expensive than other beers from the same breweries. Or is there more to it than that? What's in it for the brewers? What's in it for the breweries? And perhaps most importantly, what's in it for the consumer?
I started by going to the source. I put those very questions to a number of brewers who have participated in collaborative brews. Every brewer to a man (and one woman) spoke of these collaborations as an extension of the camaraderie that exists in the craft brewing world. According to Jim Ebel of Two Brothers Brewing Company in Illinois, "The brewing community is tight-knit and friendly, and I think collaboration brews have developed out that.  There is a lot of mutual respect among brewers, and it's natural that they should want to work together and create something special."  Adam Avery elaborated, "There is a brotherhood in the craft industry. I don't know if it is the same in other industries. While we are competitors we are also friends and we work together to try and capture a greater overall market share. So the industry itself is like a collaboration and the collaborative beers in many ways reflect that." Allagash's Jason Perkins underscored the friendship factor saying, "A lot of the collaborations are happening between breweries that already have some connection, where the brewers are already good friends."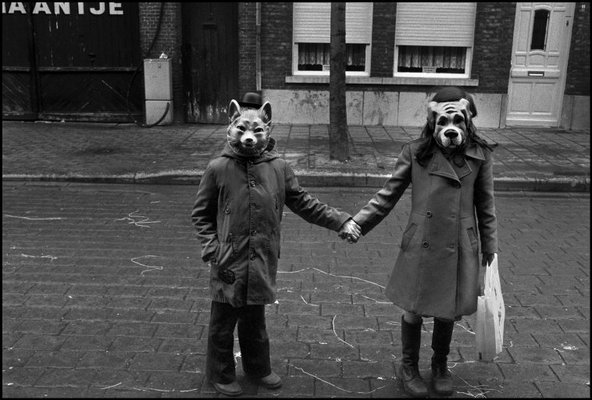 Okay, I get that. It's fun to play with your friends. But is that it? There's nothing more to it than that? According to Vinnie Cilurzo, owner/brewmaster at Russian River, there is. "I think learning is the best part of doing these beers", he said, "as one brewer can learn something from another brewer's contribution to the beer."  Jim Ebel illuminated further, "There are a LOT of different opinions, ideas and methods used in brewing.  It constantly amazes me how many different ways there are to accomplish the same thing in the brewery.  Collaboration brews allow brewers to work together and learn different, new and maybe better ways to do things.  When we collaborate with European brewers, it is even more pronounced.  American craft brewers have such modern, well-built equipment; many of our overseas brethren are overwhelmed when they visit the States.  So they may learn about some new equipment, and we have the chance to learn a beer style's history and authentic brewing practices."
Learning is good. Friendship is good. But what about those instances where the previous relationship between the brewers is not so deep or clear-cut? What about my nagging suspicion that this is all really just a marketing gimmick, a cheeky promotional ploy? Here I think results may vary by project, but according to Adam Avery, "As a brewer you also have to ask what the reason for the collaboration is. It can't just be a marketing gimmick. There has to be something more there." But isn't the market fanfare these beers get good for the brewery? Jason Perkins responded, "For the brewery as a business there is certainly an increase in exposure from a press point of view. It's always good to get the word out there about the brewery. But working with others and learning techniques or ingredients or whatever opens us up to making great beers that we might not have made on our own." And what of my desire for the "little bit of each brewery" thing? Perkins continued, "A question we are always asking ourselves is how do we make the collaboration work? It's great to be able to capture some of the character of each brewery in the final product, whether it's a yeast strain, a technique, or just a spirit. That's certainly a goal. But I won't be disappointed if that doesn't happen. Getting a great beer is really what matters."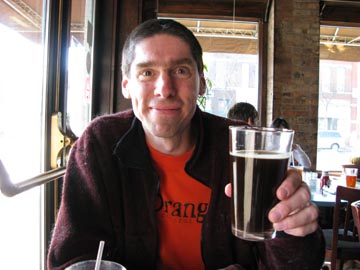 I do like great beer. And that leads me to the final piece of my exploration into collaboration, the consumer. What's in it for us? Perhaps no brewer addressed this more succinctly than Adam Avery who said, "For the consumer they get a chance to try some really wacked-out stuff." For greater subtlety I turned to Urthel brewmaster Hildegard Van Ostaden who gave this more nuanced take, "It is very exciting tasting collaboration brews, because in most cases different styles are combined. And who can resist that?" Another consumer benefit expressed by multiple brewers was that collaborative beers give consumers access to breweries that may not be otherwise available their particular markets. Jason Perkins offered this final thought, "Craft beer consumers are intelligent. They expect a lot and we always have to be pushing standards to meet expectations. They want something new and different. Collaboration is another way of providing that."
Ah yes, the expectations of the craft beer consumer. American beer fans have become increasingly demanding in the last few years, in some cases perhaps unreasonably so. And therein lies the one potential pitfall of collaboration that my diligent research uncovered. Many of the consumers I talked to expressed apprehension about their own reaction to these beers. "I sometimes feel like I have an unreasonably high expectation of them." said Twin Cities beer lover Nick Johannes. "I'm expecting the 'second coming' of beer. Two breweries? Must be twice as good!" And as Sean Brush, an employee at the Four Firkins Beer Store sees it, "The only problem with collaboration beers is that the consumer is expecting something earth shattering, a beer that transcends anything either brewery has done in the past." And how often does that really happen? I mean, it's only beer. Right? Perhaps we as consumers (me included) need to chill out and adopt Sean's approach to collaborative beer appreciation. "For me it's just fun to see what these talented brewers come up with." Or to restate Jason Perkins brilliant observation, "Getting a great beer is really what matters." Isn't that the truth.